OEC Demo Videos
Below is a listing of service demonstration videos available for your viewing. We strive to make our services easy to use and convenient for our customers. These demo videos are provided to help you fully understand the service. Select a product or service to view the demo video.
Click the links below to access our Online Education Center videos
Enroll today, and discover all the advantages of eStatements. Simply log into Online Banking, and enroll for eStatements under the Profile tab.  You'll have access to every transaction in your account, including check images, right at your fingertips.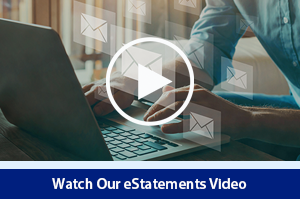 eStatements are good for the environment. They literally save tons of paper.
You get your statement sooner than by mail.
eStatements eliminate the clutter of paper statements and can be stored on your computer.
eStatements simply protect your information better than paper statements.
eStatements are free. It costs you nothing to switch to eStatements.
Account Balances:
View your account balances in real-time.
Recent Transactions:
View both recent and pending transactions.
Check Images:
View the front and back of your checks.
Deposit Checks:
Deposit paper checks using your phone's built-in camera.
Instant Balance:
When enabled, users can securely preview balances without logging in.
Touch/Fingerprint ID:
Log in using your fingerprint instead of a password.
Transfer Funds:
Easily move money between your accounts.
Add Contacts:
Add companies and people to send money to.
Send Money:
Schedule payments to companies and people.
Request Money:
Request money from other people.
Receive Money:
Accept payments from other people.
Get your money on the move. Zelle® makes sending money to friends, family and others you trust1 – fast, safe and easy.
With just a few taps on your mobile device or clicks from your Online Banking account via your computer, you can:
Send money to your kid in college1
Request2 money from your roommate for their share of the rent
Or, split2 the cost of the dinner bill or concert tickets with friends
Questions?
If you have questions, please visit our Help Center or contact us for assistance.
1) Must have a bank account in the U.S. to use Zelle®.
2) In order to send payment requests or split payments requests to a U.S. mobile number, the mobile number must already be enrolled with Zelle®.
Zelle and the Zelle related marks are wholly owned by Early Warning Services, LLC and are used herein under license.
CheckFree Bill Pay Service is the fast and easy way to pay bills. Bill Pay Service lets you: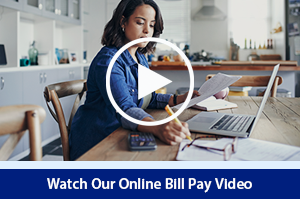 Pay all your bills from one convenient service.
Receive and view electronic bills from participating merchants.
Set up one time payments by check or electronic transfer.
Set up recurring payments for all your monthly bills.
Popmoney lets you transfer money to or from another individual or financial institution.
Get the mobile app that lets you control debit card usage and spending on the go. CardValet lets you: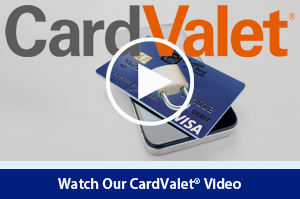 Turn your debit card on and off.
Establish transaction controls for dollar amount limits, merchant categories and geographic locations.
Stay informed of potential fraud with alerts on attempted, declined transactions.
Use the CardValet app to check your account balances and review transactions.
Control Spending
If you're trying to establish or stick to a budget, CardValet® can help. Set spending limits for general use or specify thresholds by merchant types, such as gas, groceries or retail stores.  You can also establish these controls by location.  The flexible app lets you change these parameters anytime with ease via your mobile device. Going on vacation? Holiday shopping? Simply update your transaction controls to fit your spending needs.
Fraud Protection
A lost or stolen card is just one area of concern in today's world where Identity theft, skimming and other attacks are an unfortunate reality. Turning your debit card off when you're not using it helps safeguard against fraud. When your card is "off", no withdrawals or purchases will be approved.  Transaction controls that allow your debit card to work only in specific locations or geographic areas, add another layer of protection. And real-time alerts keep you informed when your card is used or declined.
Review Balances and Transactions
Monitor your finances from anywhere. Use the CardValet app to check your account balances and transactions.